Kate Takes 5's Listography began just after Christmas 2010 when I realised I had been spending a ridiculous amount of time surrounding myself with lists - whether it was writing my Christmas present list for the 58th time or spending 4 hours watching the Top 100 anthems of the year I just couldn't seem to get away from them.
Now we all know some lists are more interesting than others. When I was a teenager is was all Top 5 Boys I'd like to kiss, then it moved onto Top 5 Universities I'd like to go to, Top 5 Countries I want to visit, Top 5 jobs I'd like to have, Top 5 baby names...Now it's likely to be a list of things I'll buy when I win the lottery, or which movie star I'm going to elope with (Johnny Depp since you ask). Well there's nothing wrong with a bit of escapism is there?
So I decided to embrace my chronic listism and post an invitation to all of you to take part. And guess what? I found out that I'm not the only Listomaniac out there!
And so, in homage to the wonderful
http://www.listography.com/
, and to bring together all us Listys, Kate Takes 5's Listography began.
Every so often I'll post a topic and all you need to do is jump aboard and write your own Top 5 list on that subject on your own blog, then just add your blog on the linky, and if you have time visit some of the other lovely entries. You might be surprised by what you find. You can tell a lot from a list you know - take it from an addict that knows.
**Get all new Listography posts direct to your mailbox by inputting your email address here**: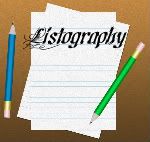 "/>
Some sample Listographies to get you in the mood...
Listography 15: Top 5 Things I'd Change About My Wedding:
Kate Takes 5 Listography Participants
Listography 15: Top 5 Things I Hope They'll Say About Me At My Funeral:
Kate Takes 5 Listography Participants
Listography 14: Top 5 Laminated List:
Kate Takes 5 Listography Participants
Listography 13: First 5 Albums You Owned:
Kate Takes 5 Listography Participants
Listography 12: Top 5 Time Travel Destinations:
Kate Takes 5 Listography Participants
Listography 11: Top 5 Childhood Sweets:
Kate Takes 5 Listography Participants
Listography 10: Top 5 Pet Hates:
Kate Takes 5 Listography Participants
Listography 9: Top 5 Ingredients for my Perfect Day:
Kate Takes 5 Listography Participants
Listography 8:Top 5 Films Ever:
Kate Takes 5 Listography Participants
Listography 7: 5 Things I'd Love This Valentines:
Kate Takes 5 Listography Participants
Listography 6: 5 Kids TV Shows I Hate:
Kate Takes 5 Listography Participants
Listography 5: Things I Wish I Could Do:
Kate Takes 5 Listography Participants


Listography 4: Celebritys I'd Like to Punch in the Face
Hosted by www.metalmummy.com

Listography 3: Favourite Places I've Visited:
Kate Takes 5 Listography Participants
Listography 2: Famous Dinner Party Guests:
Kate Takes 5 Listography Participants
Listography 1: Good Things About Having Kids (cause it's easy to forget):
Kate Takes 5 Listography Participants